No business is too small or too large to join the Chamber. Join the Georgetown Chamber of Commerce to build your career, your company and your community. Membership in the Georgetown Chamber of Commerce is an investment in growing your business and supporting the economic vitality of the local area.
The Georgetown Chamber offers the area's broadest and most diverse network of organizations to connect you with people and resources you need.
The Chamber provides a platform for networking with community and business leaders, building valuable relationships and developing both professionally and personally.
Your membership connects you to new customers and the community while also offering access to continuing education and training. We serve every career stage and every kind of industry - entrepreneurs, nonprofits, young professionals, experienced executives, and everyone in between.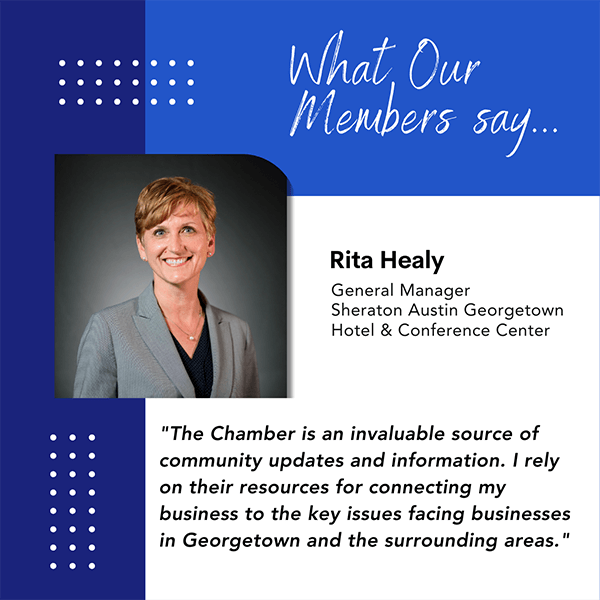 Chamber Member Benefits include the following:
Online Business Directory
Chamber members are listed by business category and by keyword search in our online directory. This can include a link to your business website, a map of your location, and your company logo.
Printed Business Directory
Chamber members are listed both alphabetically and by business category in a printed Community Profile Guide & Membership Directory. These magazine style publications are printed annually and available free of charge at various locations in town, including the Chamber.
Ribbon Cutting, Grand Opening, or Groundbreaking Ceremony
The Chamber is proud to celebrate your business with a ribbon cutting ceremony! We'll bring the big scissors and ribbon to celebrate your significant day. Events like these are an opportunity to welcome Chamber members, community leaders and the public to your business or organization. We promote your ribbon cutting through chamber communications and social media. Ribbon cuttings are available Tuesday-Thursday at 12:15 pm. Photos taken will be posted in our newsletter and on our social media.
Committees, Alliances, and Circles
The Chamber offers a variety of ways to connect with other members through our committees, alliances, and circles. Committee involvement is an effective way to establish yourself as a community leader and create lasting connections with other business leaders while working towards common goals. Engage with community leaders, learn from your peers and gain visibility with potential customers by participating in one of the programs.
Leadership Georgetown
Those looking for an in-depth, behind the scenes look of Georgetown will enjoy Leadership Georgetown. Leadership Georgetown is a program that identifies and develops talented and committed citizens who aspire to provide leadership in Georgetown's business and community activities. Only Chamber members may participate.
Community Development
The Chamber provides members with annual window decals to send a positive message about your business. Your commitment to the region is demonstrated by your investment in the largest, most influential business organization in our community.
Business Programs
The Chamber offers free and discounted programs to our members. This includes our monthly events, annual events, training seminars, educational luncheons, and networking events.
Business Referrals
Each day the Chamber receives phone calls and emails from potential customers looking for businesses that can help them with specific goods or services. We only recommend Chamber member businesses when we receive a referral request. In addition to the telephone calls and walk-in inquiries, the online business directory helps people find your business 24 hours a day/ 7 days a week.
Marketing, Advertising and Sponsorships
Chamber businesses can display information and brochures in our lobby. This gets your name in front of every visitor who comes into the Chamber offices. We also have various sponsorship opportunities throughout the year to help you market your business to the most people.
Our print publications include the Guide to Georgetown & Chamber Membership Directory and the Map of Georgetown & Williamson County, both of which are included in all relocation packets.
Website advertisements include banner ads and logo listings. Website banner ads are listed on the following pages: Business Directory, Business Directory Map, Member Deals, Job Postings, Community Event Calendar, and Information Requests.
Community Calendar
Holding a special event? Chamber members can list their community related events free of charge on our online calendar.
Meeting Space
Chamber members receive discounted pricing to rent our board room and event center. Additional benefits are available for certain membership packages. Platinum and Gold level members are eligible for complimentary use of the event center during normal business hours. The event center accommodates 150-200 people. Platinum, Gold, and Silver level members are eligible for complimentary use of the boardroom. The boardroom accommodates 15 people. All members have access to our resource office to hold a private meeting. The resource office is a small office with a desk and two chairs. *these benefits are subject to availability.
Member to Member Discounts
Chamber members can take advantage of our Member Discount program that offers discounts to all of our 1,000+ member businesses. Discounts with details are listed on the website.
Relocation Inquiries
The Chamber is often the first stop for visitors and new residents of Georgetown. You'll reach potential new residents through our relocation communications. People interested in moving to Georgetown receive information regarding the Chamber and our member businesses.